Stunning Web Development Services
Web Design & Development Solutions for Your Business!
Responsiveness is maybe the biggest benefit for a website. If your website is not responsive or not optimized for different devices, then you are missing massive web traffic.
We implement an efficient and flowless website that will comprehensively fulfill your requirements.
We'd like to help you with advanced technology integration and highly scalable & secure web development solutions at an affordable cost!!
"We are Best Website Design & Development Company Provide lots of services like Ai, Web Security, and more Internet Services for Businesses and projects. Provide the superior products & best service solutions, its help engaged employees, disciplined work to create happy and successful clients ".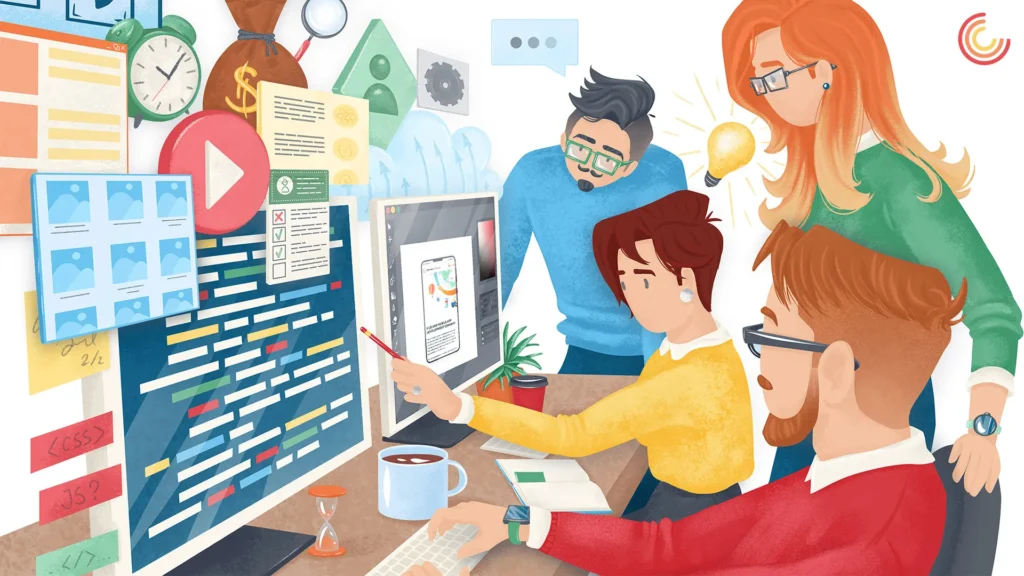 Our web developers build custom web application solutions. Provide a web presence to help you grow your brand identity!
From Concept, Architecture, Visual Identity and UI/UX Design, our team delivers an immersive experience to maximize end user engagement.
Our Dev Ops experts help you with secure and stable infrastructure management for continuous integration and rapid releases.
We incorporate AI elements into existing business processes and applications to increase productivity through expert AI engineers.
We create IoT solutions of the future for the residential, commercial and hospitality sectors to enhance the quality of living. Innovate and create.
We design and develop such mobile apps. Which provide rich experience of small screen. Which help businesses for better operational efficiency and engagement.
Digital Marketing Services
Your website needs an efficient marketing strategy to attract consumers to your website. If visitors can't find your website. So how will they continue to purchase from your site?
Protect your site with our service and keep customers safe. Including DDoS protection, Content Delivery Network (CDN) speed boost, firewall, and more.
Website Development Pricing
Check out our most popular Pricing
Select your requirement to get a quick quote. Affordable price for everyone if you are not satisfied don't worry price is flexible.
An Startup, 30- 100 GB plan with matching domain and email and 1 SSL (with terms of 12/mo. or longer).
1 Website (Including 7 Pages)
Chat Button / Other Chat Features
Logo Design / Free 10 Shutterstock Images
Google My Business Listing
Basic SEO and Social Business Profiles
An economical Plan Increasing Processing Power for your Website, Unlimited Storage plan with matching domain and email and 1 SSL (with terms of 12/mo. or longer).
Increased processing power
1 Website (Including 12 Pages)
Chat Button / Other Chat Features
Logo Design / Free 20+ Shutterstock Images
Google My Business Listing
Basic SEO and Social Business Profiles
Enhance Your Business With eCommerce & Custom Websites
Grow your business with eCommerce website and affiliate marketing etc. Sometimes customers want custom website and want more creativity, don't worry webdotedit helps and understand customer problems easily. We help to grow your business faster and easily.
Increased processing power for your eCommerce Website, storage and databases, plus a matching domain, email and 1 SSL (with terms of 12/mo. or longer).
Increased processing power
1 Website (Including 20 Pages)
$3 / Page (If Pages Up to 20)
Chat Button / Other Chat Features
Logo Design / Free 50+ Shutterstock Images
Google My Business Listing
Basic SEO and Social Business Profiles
If you want custom website please contact us.
We make waves with fast-moving & fluid brands.






We would love the opportunity to work with you, but we understand that you may have some additional questions. This quick Q&A covers a lot of the basics. If you have any additional questions, don't hesitate to reach out.
How much will it cost to design and develop my website?
Each business's needs are different, so due to variations in scope, pricing from one web design to the next can be quite different. Our typical end-to-end website redesign costs $100 -$1000.
If you'd like a more detailed breakdown of the pricing, request a copy of our pricing sheet.
How long does it take to build my website?
Similar to questions regarding website cost, the timeline will vary greatly based on the scope of your web design project. Typically, our end-to-end build projects take 15-30 day's and more to complete.
What size and type of companies do you work with?
We have an even balance of start-ups, small businesses, non-profits, and enterprise clients across a multitude of industries. To get a better sense of our wide range of web design projects, check out our client's list.
Where is your team located?
Our web design & development team is 100% based in the India. Our headquarters is located in Ghaziabad, and we have a satellite office located in India. We also have some remote employees in Russia, California, West Virginia, Colorado, and Florida.
What's a typical client-and-agency relationship like?
The core of our team is comprised of 1 project manager, 1 creative director, 1 web designer, 1 web developer, 1 copywriter, 1 digital marketer, and 1 QA specialist. Beyond that, we may add additional web designers or web developers based on the size of your web design project. We may also add on additional employees focused on illustration or motion graphics depending on your needs.
Clients can expect daily communication with their team via email, Slack, or Asana and "all-hands-on-deck" meetings once a week via video conferencing.
Ultimately, we try to make ourselves as available as possible while still leaving room for us to make meaningful progress on our client's projects.
Can you work with my existing Marketing team?
Absolutely. It's common for our web development company to collaborate with internal or external digital marketing teams.
Throughout the course of a project, we often help these teams set a better structural foundation for SEO, set up smarter segmentation, and improve goal- and event-tracking.
Post-launch, we can collaborate with your marketing team to produce new landing pages, website sections, and lead magnets, or we can assist with aspects of the marketing work ourselves.
Am I a better fit for Build or Grow?
Build engagements are best for organizations undergoing a major rebranding, looking to migrate from their content management system to WordPress or Shopify, or have larger, structural issues with their current web design.
Grow engagements are best for organizations that already have a website on Shopify or WordPress and are looking to increase conversions, sales, and improve overall customer experience.
What does a build engagement entail?
Build is our line of business that's focused on end-to-end web design revamps. Here's a quick outline of our process:
Project Kick-off
We start with an in-person or virtual project kick-off that often takes place over the course of 1-2 days. In this kick-off, our team will perform a series of exercises to better understand your brand, your customers, current challenges with your existing web site, and goals for future growth. We'll also dig into things like website structure, categorization, and design.
Strategy & Design
We'll then create a series of documents such as a key takeaways document, user personas, user flow charts, initial wireframes, and mood boards.
Based on our research and observed user behavior we'll iterate with your team in a collaborative fashion to design a user experience that both you, and your customers will love.
Development & QA
After we've both arrived at a point with the visual design where we're completely satisfied, we'll transition over to development. Our design team creates comprehensive visual guidelines for our development team to execute.
Our approach to QA has five layers:
A round of technical QA performed by your Web Developer.
A round of visual QA performed by your UI/UX Designer
A round of functional QA performed by a Quality Analyst
A round of holistic QA performed by our broader team
A round of holistic QA performed by your team
This multi-layered approach ensures our websites launch and performs flawlessly day one.
What does the 6-month grow engagement entail?
Grow is our line of business that's focused on incremental website improvements.
Our 6-month roadmap is designed to help us study your website traffic, observe issues/opportunities with user experience, identify quick wins, and systematically execute and measure improvements to the site.
Month 1 – CRO Audit
Through a mix of user testing and data analysis, we'll perform a CRO audit of your current website or online store. We'll focus on Mobile, Desktop, and Performance opportunities. Some of the key things we'll identify are:
Priority levels
Problems/Opportunities
Potential Solutions
Issue Types (Design, Technical, Conversion, Internal)
Bucket (Quick Win, Test, Other)
We view our engagements as relationships—not vendor agreements.
Month 2 – Roadmap + Quick Wins
Our teams will collaborate by taking our findings and creating a 6-month Grow roadmap. From this, you'll have a clear understanding of where we're going to have the biggest impact. This month we'll also focus on executing the quick wins adjustments.
Months 3 – 6 – Improvements, Testing, and Reporting
Our dedicated team of experts will systematically perform conversion tests and make web improvements that result in higher conversions and increased revenue. Walking you through the how, why, and impact, every step of the way.
If you're curious about what level of insights you can expect, check out our resource section for e-commerce.
What awards has your web design agency won?
Our digital agency has been awarded top 10 ratings from Clutch in the categories of web design, top web developer, and user experience design for 5 years in a row.
Our client work has been awarded by pretty much all of the major critics in our industry. We've received numerous awards from The Webby's, Ad Age, The Davey's, W3 Awards, Horizon Interactive Awards, Interactive Media Awards, FixThePhoto, and more.
When was your agency founded?
Our digital agency was founded in 2019, So, we have almost a lot of experience transforming brands' online presence.
We deliver Best Website Development & Design experiences that get your Business trending In the Market.
We love to help. Seriously.
Need help? Call our support team, We love taking your call and connect with you.